V I P E R V E R T E X
---
science
Early Observatories in India

JANTAR MANTAR,
the words derived from Sanskrit, Yantra Mantra.
Yantra means instrument and Mantra means calculation.
Jantar Mantar in Jaipur was built by Jai Singh in about 1723. It is one of five astronomical observatories that he built. (The other observatories are in Delhi, Ujjain, Mathura and Benaras.) This observatory was constructed in Hindu style, with influences of Islamic and Greek style.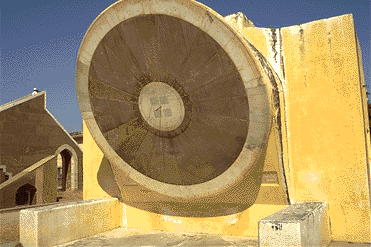 NARIVALAYA YANTRA
Jantar Mantar, Jaipur, India

Sun Dial
Image : Sun dial, Jantar Mantar © JoAnn Gillerman & Rob Terry


Jantar Mantar - wide shot © Gillerman,Terry
Sawai Jai Singh, a man of science, who lived in a period of Anarchy, founded the city of Jaipur. He was well versed in Sanskrit and Persian, deeply interested in mathmatics, astronomy and building. In 1721 he devoted himself to astronomy and built observatories in Delhi, Jaipur, Ujjain, Mathura and Benaras. One of the largest of Jai Singh's observatories, Janter Manter, Jaipur, contains 18 different astronomical instruments.
One sidereal day is but a series of Prana ...

Jai Prakash Yantra, an invention of Jai Singh , is one the most accurate, educative and interesting of all the instruments at Janter Manter. The two part convex partial spheres are cavities that are but upside down earth. They were built to verify readings and calculations of all the other instruments of Jantar Mantar. Each of the cavities is divided into six marble slabs.They bear the inscriptions of the twelve symbols of the zodiac. We can find out the motion and declination angle of the Sun, coordinate positions of the stars, Indian Standard Time and the Zodiac symbol of the day. It is an ideal instrument for demonstrating the "doctrine of sphere".


JAI PRAKASH YANTRA
Jantar Mantar © Gillerman, Terry

Go Back To Viper Vertex home